Adding square feet to your existing home isn't always an option. So how do you make your kitchen remodeling dreams come true with such limited space? Accent Design is coming to the rescue with our top five tips for a functional kitchen.
We'll never stop stressing the importance of utilizing every inch of valuable real estate in your kitchen. Many homes, especially older homes in Hawaii, weren't built with this smart use of space in mind. But don't let poor planning leave you with wasted space in your kitchen! These kitchen remodeling tips can help you get the most out of your renovation.
#1: Don't be afraid to be creative
We firmly believe in pushing boundaries to come up with inventive ways to utilize every inch of your kitchen. There are some standard "dead zones" in many kitchens where tricky areas are left unused or simply dysfunctional. One of our favorite examples is the corner cabinet. Instead of awkward drawers that bump into one another—or one huge cabinet that's too deep to access—why not consider another option? The corner cabinet solution from our Maunalani Heights renovation is one of our favorite examples of creative kitchen remodeling.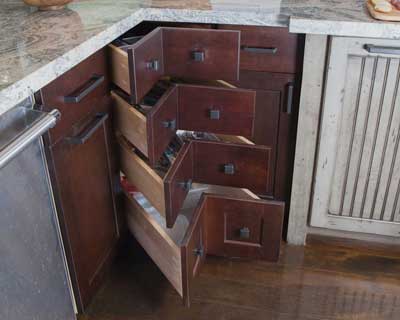 #2: Consider "fun sized" cabinets
Often times, there won't be enough room to add another full-size cabinet, so the space is left empty and unused instead. This is yet another dead zone that could be turned into something much more useful! We love creating smaller, "fun sized" cabinets and pull-out drawers for things like spice racks or hidden trash bins to utilize the extra space.
#3: Creatively hide the clutter
Any amount of clutter on a smaller kitchen's countertops looks crowded—trust us. One of our favorite creative solutions is to install a cabinet face that pulls down to hide any appliances that you don't want to put on display. This leaves the appliances at easy access, while keeping your countertops looking nice and open when they're not in use.
#4: Install organizational elements
Organization is important in any kitchen, but especially when you're trying to optimize limited space. There are all sorts of tools and tricks to make your kitchen functional and organized, minimizing clutter and wasted space. We love pull-out shelves and rotating storage bins for baking pans and small appliances.
#5: When all else fails, create more room
You may not be able to add additional square feet, but there are still sneaky ways for you to create more prep space. We love utilizing fold-out butcher blocks to place additional appliances on, like blenders or food processors. This way, you can tuck them away when you don't need them, and you don't have to waste valuable counter space on non-essentials.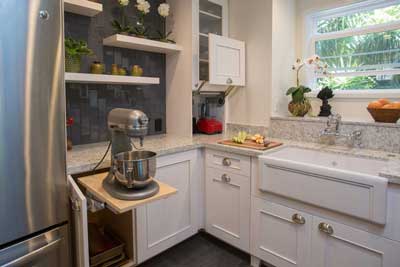 At Accent Design, we're experts at optimizing your kitchen space for your unique needs. Contact us to learn how we can help you with your next home remodeling project.