Whether it's for a small bathroom remodel or a full kitchen renovation—or anything in between!—it's important to pick the right countertop surface for your unique space.
There are a lot of factors that go into picking the right countertop material for your home. In addition to aesthetic, we know how important it is to consider price, quality, and durability. That's why we've compiled a list of our top three countertops Hawaii homeowners are sure to love as much as we do.
Quartz
We can't get enough of quartz countertops. Quartz is a great product for kitchen and bathroom countertops due to its easy maintenance. This countertop surface is much stronger and more resilient than granite or marble, while still having the look and feel of real stone. Unlike standard stone surfaces, quartz is non-porous, meaning it's easier to clean and won't leave behind hard-to-remove stains. If you're looking for a low-maintenance, long-lasting product, it's hard to go wrong with a beautiful quartz slab countertop.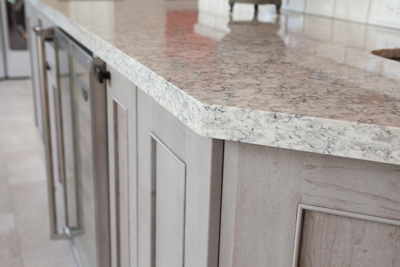 Solid Surface
Manufactured solid surface countertops are a great option for homeowners looking for an affordable, mid-range option. Solid surface countertops come from manmade materials like acrylic, marble dust, and other synthetic products. Like quartz, solid surface is non-porous, meaning it's stain- and germ-resistant. This countertop surface is more vulnerable to heat and scratches than quartz, but it's relatively easy to buff out any scratches that may appear over time. Solid surface can also be installed seamless, which makes it resemble other higher-end seamless materials like marble and granite.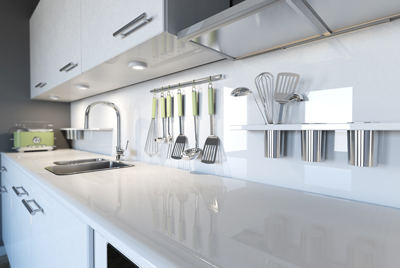 Granite
If you're looking for a truly natural stone, we recommend granite or marble. Granite in particular is worth looking into, as it is more durable than marble. We love natural stone for kitchen and bathroom remodels, since the beautiful colors and designs are truly organic. As a porous stone, granite countertops need to be sealed in order to protect against stains and damage. Because of this, this type of countertop requires more ongoing maintenance.
At Accent Design, we help homeowners find countertops that fit the unique personality of their home remodel, while also meeting their budget and maintenance requirements. Contact us to learn which Hawaii countertop companies we recommend for your next kitchen or bathroom remodel.